Nitish meets Sonia amid JD(U) plea for common presidential candidate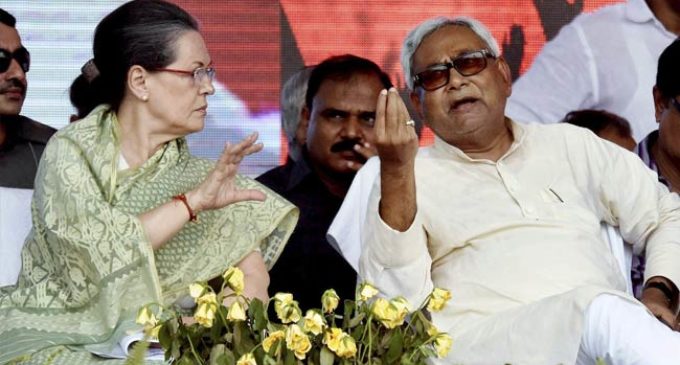 Bihar Chief Minister Nitish Kumar has asked the Congress president Sonia Gandhi to take a lead in getting together resistance gatherings to challenge the decision BJP-drove National Democratic Alliance or NDA by handling a contender for the Presidential races in July this year. Mr Kumar went by Mrs Gandhi at her 10 Janpath living arrangement in Delhi on Thursday in what his gathering, Janata Dal (United), portrayed as a "long late graciousness call."
"JD-U needs that for the presidential surveys, Mrs Gandhi ought to lead the pack in handling a unified applicant of the resistance," Janata Dal pioneer KC Tyagi said after Mr Kumar's meeting with Mrs Gandhi, who as of late came back from a visit abroad for restorative treatment. Mr Tyagi said Mr Kumar enquired in regards to Mrs Gandhi's wellbeing.
Sources said it was a procedure meet between the two Bihar partners likewise to examine developing their Mahagathbandan or Grand Alliance in the state to the national stage to go up against the BJP in the 2019 general race.
A typical resistance contender for President would start the procedure. The presidential decisions are expected in July when the term of President Pranab Mukherjee closes.
Gotten some information about the likelihood of a tie-up for the Gujarat get together decisions due in the not so distant future, Mr Tyagi said there has been no proposition from the Congress up until now. The Congress is an accomplice in the decision partnership in Bihar that incorporates the JD (U) and Lalu Yadav's Rashtriya Janata Dal (RJD). The collusion, set up together to vanquish the BJP in the 2015 gathering decisions, was a win and saw Nitish Kumar introduced as Chief Minister for a fourth term.
Mr Kumar, a previous BJP partner, has said before that the Congress ought to step up with regards to bring all major non-BJP parties on a solitary stage to vanquish the BJP's union in the 2019 Lok Sabha decisions. He has additionally credited the BJP's compass of Uttar Pradesh a month ago to the absence of a Bihar-like partnership.
At yesterday's meeting, sources stated, Mr Kumar recommended to Mrs Gandhi that, "Rather than responding to Narendra Modi, we ought to set our own particular motivation."
There has been hypothesis over numerous months now that Nitish Kumar's hostile to BJP stand is blurring, not slightest after he welcomed BJP pioneers for a Makar Sankranti devour as of late. His crumbling association with organization together accomplice Lalu Yadav has likewise fuelled the theory that Mr Kumar could take a gander at a political re-arrangement and getting back with the BJP, which he dumped four years prior.