ABVP marches against anti-national Indians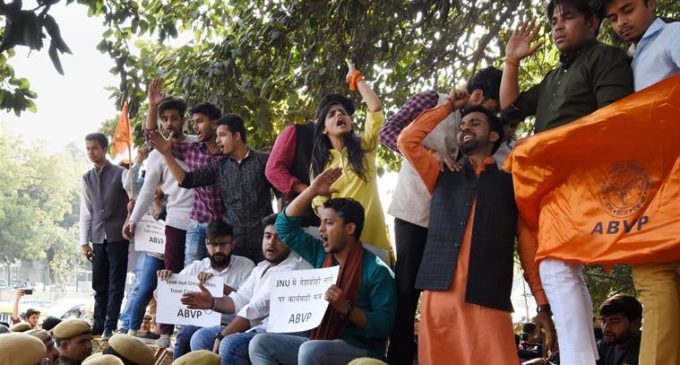 Delhi University saw one more day of challenges on Thursday as several ABVP understudy activists held a walk against "hostile to national exercises", even as President Pranab Mukherjee, in his first remarks on the discussion, said there ought to be "no room in India for the bigoted Indian". He additionally requested that understudies abstain from "spreading society of distress".
Then, Gurmehar Kaur, the understudy who propelled a battle against the conservative Akhil Bharatiya Vidyarthi Parishad (ABVP) after a week ago's conflicts outside Ramjas College and commenced a savage verbal confrontation on patriotism, has said she will never enter governmental issues.
President Mukherjee, conveying the sixth K.S. Rajamony Memorial Lecture in Kochi, said that India's establishments of advanced education "must reverberate with innovativeness and free considering". "Those in Universities must participate in contemplated examination and civil argument as opposed to spread a culture of distress. It is grievous to see them got in the vortex of brutality and disturb," he said.
There ought to be "no room in India for the prejudiced Indian". India has been since antiquated circumstances a bastion of free thought, discourse and expression. Our general public has dependably been portrayed by the open contestation of assorted schools of thought and verbal confrontation and in addition exchange," Mukherjee said.
Two Union Ministers, Arun Jaitley and Manohar Parrikar, hopped into the verbal confrontation on patriotism, with Finance Minister Jaitley saying that patriotism was a decent word in whatever remains of the world yet not in India, while Defense Minister Parrikar said that opportunity of expression ought to be inside the lawful ambit.
In the midst of the developing governmental issues over the issue, 20-year-old understudy of Lady Shri Ram College, Gurmehar Kaur, said she was "disheartened" that the issue had picked up a political tint and cleared up that she could never enter legislative issues. Kaur had a week ago propelled an online networking effort #studentsagainstabvp, irritated the RSS-subsidiary body, and getting trolled via web-based networking media. Her remark that Pakistan did not slaughter her dad but rather war did, prompted to even a union priest proposing that her young personality was being "dirtied".
"The issue on which I talked left hand. I might want to clear up that I would prefer not to enter legislative issues," Gurmehar disclosed to Hindustan Times.
"I just gave my conclusion, and I never anticipated that the entire thing would take such a turn. I had a truly terrible time. I am not in a state to discuss it, and I can't take it any longer," said Kaur, who left Delhi for the place where she grew up Jalandhar in Punjab, taking after assault and demise dangers via web-based networking media.
On Thursday, around 1,000 individuals from the Akhil Bharatiya Vidyarthi Parishad held a Protest March close to the DU's North Campus Arts Faculty with understudies raising mottos like "Hindustan mein rehna hoga, Vande Mataram kehna hoga" (To live in this nation, you need to serenade Vande Mataram), "Na Marxwad, na Naxalwad, sabsey upar rashtrawad" (Nationalism is above Marxism and Naxalism) – focusing on the left-wing All India Students Association.
The ABVP requested strict activity against the individuals who upheld "turmoil and hostile to India purposeful publicity".
"You are allowed to have meetings and revitalizes however flexibility of expression doesn't imply that you will partition the nation. Yelling about Kashmir's or Bastar's flexibility is a hostile to national activity," ABVP Media Convener Saket Bahuguna said amid the dissent. The ABVP had prevented Ramjas College from facilitating a discussion on February 21 tended to by JNU understudy Umar Khalid, who was named in a rebellion case a year back.
The CPI-M said the "horrendous assault" on Kaur has "uncovered the genuine way of the patriotism the Sangh Parivar embraces."
Delhi's Deputy Chief Minister Manish Sisodia said it is imperative to react to the issues raised by Kaur than divert.
"Hear her out and react to her in the event that you have the guts," Sisodia said to an inquiry on theory that Kaur might be with the Aam Aadmi Party (AAP).
Kaur "is a little girl of this nation, the girl of a saint", the AAP pioneer said. "Concentrate on what she stated, the issues she raised."
The Delhi Police, testing a week ago's conflicts, on Thursday said it has gotten 25 protests in regards to the February 22 brutality at Ramjas College and started recording articulations of the complainants.